DIMAND -once again- was a grand sponsor of Prodexpo, the flagship event for the development and exploitation of Real Estate, held at the Athens Concert Hall, for 23rd year.
The CEO, Dimitris Andriopoulos, the Chief Investment Officer, Nikos Dimtsas, and the Sustainability Manager, Angelos Entmons participated at parallel events.
Dimitris Andriopoulos discussed with the journalist, Nikos Filippidis about "City Clusters Re-development". Analyzing the country's investment potential, he said that "Greece is an opportunity in itself." He pointed out that "we believe in the Greek economy and in Greece, otherwise we would not invest in the country. This is where we have our headquarters and we will continue to invest". Regarding the challenges that the market faces, he emphasized: "We know very well how to adapt. In the next 18 months we will be more careful, but we have never slowed down on any of our 20 projects. We're not afraid to keep the production engine on".
The CIO of Dimand Nikos Dimtsas, talking about the trends in the Real Estate market, the changes that were brought by the increased interest rates, the effects of inflation and the challenges of the EGS, estimated that the market will diversify into quality or second-rate properties, which will lose out in value. He also pointed out that the total operating cost is of particular importance to the user of a building and explained that bioclimatic buildings have an appeal to big companies, for which savings and ESG have an important role.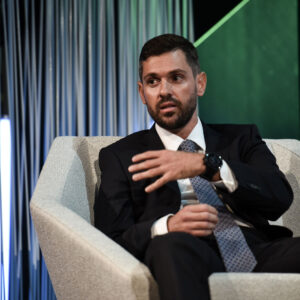 Angelos Entmons, participating in the discussion about the creation of sustainable workplaces, emphasized that "the recipe for improving the health of people, but also of the planet, is to adopt an above and beyond philosophy by all involved bodies, even from green standards and tools". In this context, he added, the term sustainability must be addressed holistically and beyond the important energy efficiency, other areas, such as the crucial embodied carbon, must be improved. "We at DIMAND have the experience and know-how to deal with our projects in this way" he concluded.
Our appointment at Prodexpo's flagship event has been renewed for next year and we will definitely have a lot more to say.